A Touch of ASEAN
A Touch of ASEAN
The Library of Chiang Mai Rajabhat Univerisity aims to promote learning society and create an opportunity for lecturers, students, and staff to learn more about culture and tradition of ASEAN through the activity, A TOUCH OF ASEAN.
Dr. Suthinan Cheunchom, the Director of CMRU Libray reveals that as the Library is the learning center, it is a good opportunity to host this event, A TOUCH OF ASEAN on 4 July 2017 from 9.00 onwards at CMRU Library. This activity also aims to construct knowledge and understanding related to the way of life, culture, and tradition in ASEAN countries.
There are many interesting activities such as the presentation of ASEAN Library, A touch of ASEAN exhibition from Republic of the Union of Myanmar and a workshop on "Food of Myanmar."
For further information, please contact CMRU Library 053-885900.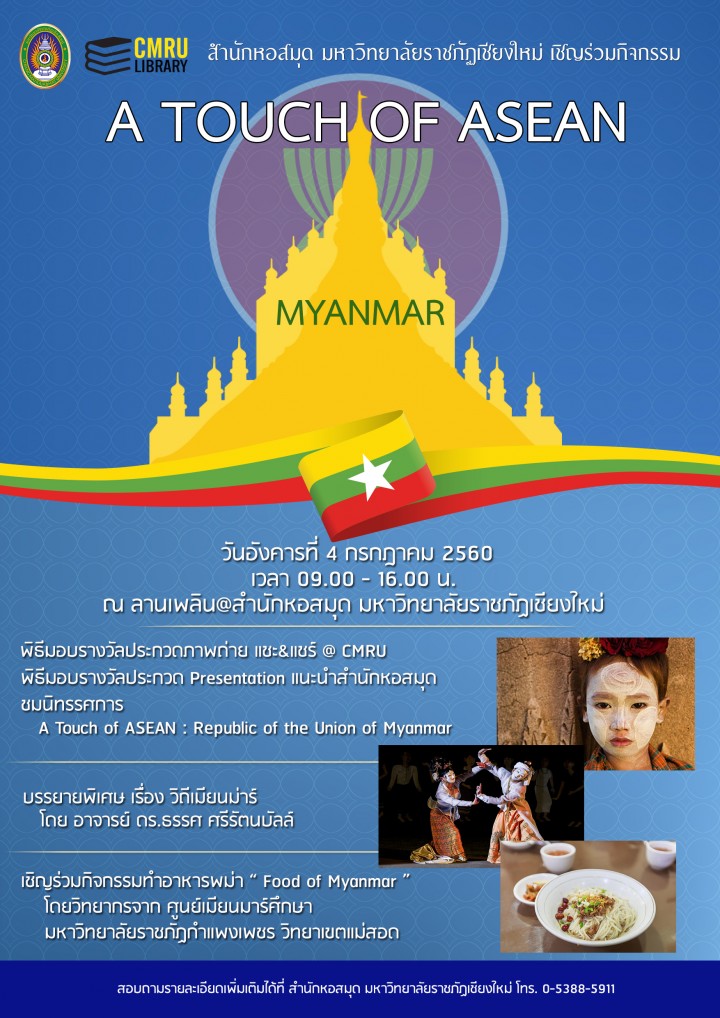 มหาวิทยาลัยราชภัฏ, ราชภัฏ, ราชภัฏเชียงใหม่, มหาวิทยาลัยราชภัฏเชียงใหม่, เชียงใหม่, ราชภัฏภาคเหนือ, วค, Rajabhat, Chiangmai, Rajabhat University, cmru, Chiangmai Rajabhat University