CHIANG MAI - Nop Buri Nakorn Pink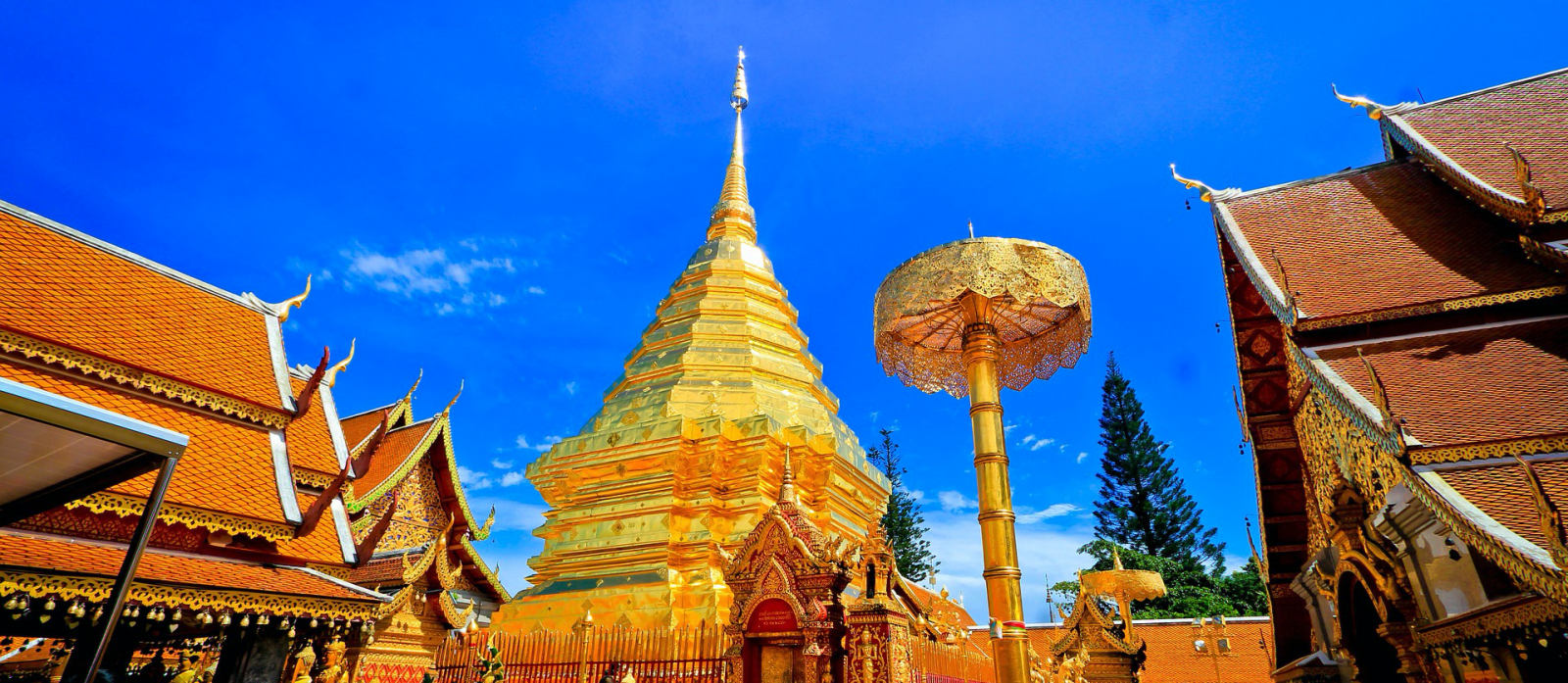 Chiang Mai or "Nop Buri Nakorn Pink", the former capital of the Lanna kingdom, is considered an area of nature, cold weather, and diverse culture. Being a hub of several ancient realms, Chiang Mai has been a center of exchanging knowledge, religions, architecture, and commerce for centuries. This facet has created the unique Lanna characteristics.
People who came to settle in Chiang Mai brought with them handicrafts such as umbrella making, silverware, and woodcraft. Cultural traditions like the traditional New Year celebration the Lanna Songkran festival, and the ceremony of worshiping the Inthakin Pillar were also imported.
Tan Guay Salak is a communal festival that takes place every October in Chiang Mai and some other provinces. Men make bamboo baskets into which women place fruit, candies, and other delicacies. The container is then topped with money and presented to Buddhist monks in memory of the dead. It is given as an offering of thanks, remembrance, and to increase the chance for the living to merit a better reincarnation.
Many Chiang Mai rituals express the belief of religions and spirits. Such ceremonies are, for example, releasing hot-air balloons representing letting go all of one's bad luck, the Great Sermon, lighting pot candles to pay respect to Buddhism and Pra Tat Toong, which is a long- pole flag made to accompany these religious ceremonies from birth to death. A defensive moat around the old town was created long ago. Along the watercourse are old fortresses called "jaeng" meaning corner in the local language. Within the square was the location of a palace of Chiang Mai's old rulers (now a government service office), and many important ancient temples such as Wat Pra Singha with its delicate Buddha image hall or Wat Chedi Luang which has the biggest Chedi in Chiang Mai.
Source : https://www.tourismthailand.org/Chiang-Mai
Chiang Mai Tourist Attractions
Temple
Wat Phra That Doi Suthep
Perhaps the most famous and important temple in Chiang Mai every visitor must pay a visit. On top of Doi Suthep Hill, at 3,520 feet above sea level, finds the revered golden Phra That (chedi) of Wat Phra That Doi Suthep rises against the sunlight. The temple was built in 1383 to enshrine Buddha's relics. You can actually drive uphill to the higher platform but a lot of devout Buddhists choose to pilgrim by walking 290 steps up to the hilltop. After praying the Phra That for good lucks, don not forget to proceed to the terrace to soak up panoramic views of Chiang Mai town and surrounding countrysides. Opening hours: 6.00 am - 5.00 pm.
Source: https://www.tourismthailand.org/Attraction/Wat-Phra-That-Doi-Suthep--145
Wat Phra Singh
Situated in the middle of the old city, this temple contains Chiang Mai's most important Buddha statue. The recently restored Viharn Lai Kham is a classic example of a Lanna-style viharn while the main viharn (c. 15th century) houses the much venerated Phra Sihing Buddha, which has a murky background yet a unique lion-style originating from Sri Lanka. A distinctive, elevated Hoi Tra (scriptures repository) is also on site. The mural paintings on theoนom walls of Wat Phra Singh depict the scenes of Suwannahong and Sang Thong classic literature. Open: 06:00-17:00. Entry: free. Address: Sam Lan Road, Phra Singh.
Wat Suan Dok
This temple was established to the west of the old town as a Buddhist university that survives to this day and is noted for its collection of stark chedis under which several former rulers of Lanna have their ashes interred. There is a monk chat here every evening from 17:00, where novice monks practise their English by answering questions on Buddhism. Open: 06:00- 17:00. Entry: Free. Address: 139 Suthep Road. Tel: (053) 278 304.
Zoos
Chiang Mai Night Safari.
One of Chiang Mai's newest attractions, this 120-acre woodland at the foot of Doi Suthep National Park is worthwhile for the whole family. A two-kilometre Jaguar Trail around a pretty lake has many zoo-like enclosures and when it gets dark two different tram rides take visitors through open safari area full of African, Asia and South American predators and wild animals. It includes a large pavilion area with restaurant and Southeast Asia's biggest musical fountain. Open: 11:00-21.30 (Daily). Address: 33 Moo 12, Nong Khwai, Hang Dong. Tel: (053) 999 000.
Chiang Mai Zoo
Today, Chiang Mai Zoo is privately operated and includes a large variety of animals. In addition, it provides two large aquariums. On 28 October 2008, an aquatic tunnel with a length of 133 metres (436 ft) (the world's longest tunnel aquarium) was opened to the public. It also has a marine aquarium, which is the largest one in Asia.
Overall, 400 animal species are represented in the zoo including koalas, Humboldt penguins, Cape fur seals, the only rhino in Thailand, hippos, flamingos, giraffes, zebras,ostriches, camels, lions, tigers, Barbary sheep, Malayan tapir, and many types of reptiles. The zoo is also home to two elephants[5] and three giant pandas.
Giant pandas Lin Hui and Chuang Chuang arrived at the zoo on 12 October 2003, and are on 10-year loan from China. Their daughter Lin Bing was born at the zoo on 27 May 2009, and will be returned to China when she is two years old. Lin Bing is one of just a few giant pandas born in captivity outside of China.
Source: https://www.tourismthailand.org/Chiang-Mai-zoo
Chiang Mai Aquarium
Surprisingly, landlocked Chiang Mai now boasts the largest aquarium in Southeast Asia. It's located inside the zoo and has an 8,000 cubic-litre tank that apparently includes the world's longest aquarium tunnel (at 133m). More than 8,000 aquatic species, including 250 fresh water varieties, are found here. Open: 10.00-16.00. Entry fee: 520/390 Baht (adults/children). Address: 100 Huay Kaew Road, Suthep. Tel: (053) 893 111.
Garden
Queen Sirikit Botanic Garden
Continue up the Mae Sa Valley, just past Mae Sa Elephant Centre, and discover this lovely landscaped mountainside garden collection which covers an area of 560 acres among the cool hills of Mae Sa Valley. Home to over 700 species of plants, including cacti and some spectacular orchids, it also features a number of attractive nature walks, along with greenhouses, a pretty cascading river, restaurant and a great gift shop. Open: 08:30-17:00. Entry fee: 100/50 Baht (adults/children). Address: 100 Moo 9, Mae Ram, Mae Rim. Tel: (053) 841 234.
Royal Park Rajapruek
Developed as an 80-hectare flora expo in 2006/2007 to commemorate the King's 60th year on the throne, this enormous landscaped park with permanent exhibition space has become a public park and is nice for a stroll. It is located near the Night Safari, south west of the city. Open: 08:00- 18:00 (Daily). Entry fee: 100/50 Baht (adults/children). Address: Royal Park Rajapruek, Mae Hia, Muang. Tel: (053) 114 110-5.
Source: http://www.1stopchiangmai.com/what_to_see/attractions/
มหาวิทยาลัยราชภัฏ, ราชภัฏ, ราชภัฏเชียงใหม่, มหาวิทยาลัยราชภัฏเชียงใหม่, เชียงใหม่, ราชภัฏภาคเหนือ, วค, Rajabhat, Chiangmai, Rajabhat University, cmru, Chiangmai Rajabhat University